SUS304 Stainless Double Channel Biometric RFID Full Height Turnstile
Product Detail
Product Tags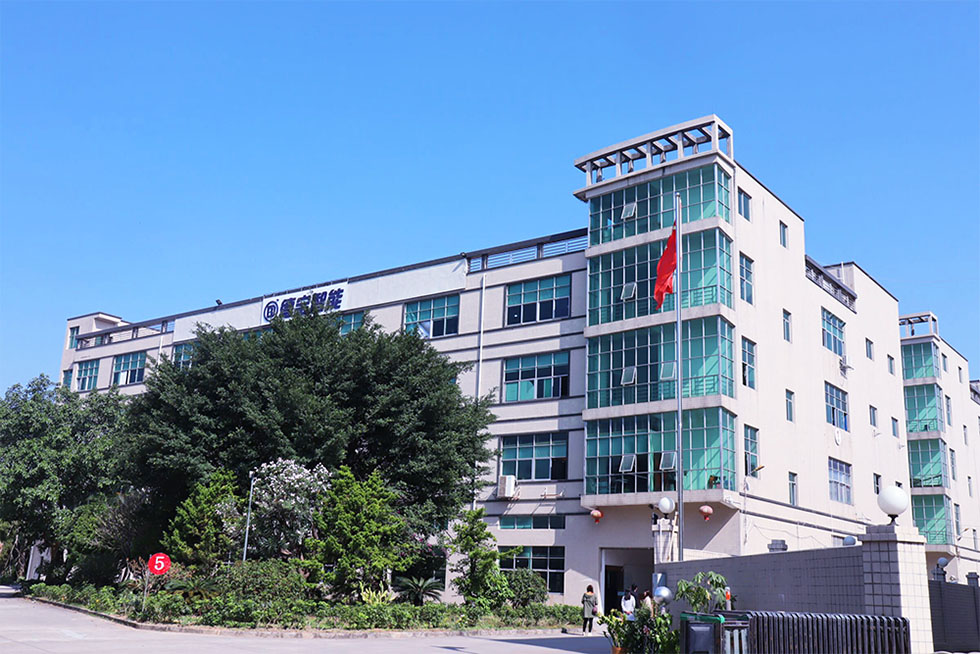 Our purpose is to offer good quality products in a competitive price ranges and top-notch supporting to clients around the whole world. We're ISO9001, SGS,CE, EMC,FCC and ROHS certified and strictly adhere to good quality specifications for our turnstile products. We supply turnstile gates that suitable for Office Building, Government Agency, Scenic Spot & Community, Stadium & Park, Transit Complex, Campus & Hospital, Factory & Construction Site and etc. Our products can cover 80% parts of the turnstile market customer requirements.We welcome new and old customers to make contact with us and send us inquiries by mail for foreseeable future company associations and attaining mutual achievements.
| | |
| --- | --- |
| Model NO. | G5389-2 |
| Size | 2400x1550x2300mm |
| Material | 1.5mm +1.0mm 304 stainless steel |
| Pass Width | 650mm |
| Passing Speed | 30-45 person/min |
| Working Voltage | DC 24V |
| Input Voltage | 100V~240V |
| Communication Interface | RS485, Dry contact |
| Opening response time | ≦0.2s |
| Machine core | Full high turnstile gate Machine core |
| PCB Board | Full high turnstile gate drive PCB board |
| Working Environment | ≦90%, No condensation |
| User Environment | Indoor and outdoor |
| Applications | School, hospital, factory, construction site, park, housing estate, prison, stadium, government agency, etc |
| Package Details | Packed into wooden cases, 2130x1480x1250mm/2530x1550x870mm, 450kg |
Brief introduction
This is a full-height revolving door with high reliability. The ingenious design of the whole machine structure makes the installation and maintenance of this product very convenient. Equipped with standard electromechanical devices to prevent two people from passing through at the same time. It runs smoothly and quietly.
The whole product rack adopts stainless steel laser cutting, CNC bending forming, beautiful appearance, and the system adopts standard quick plug-in electronic interface to the outside, can integrate various reading and writing devices, etc., can easily read ID cards, IC cards, etc. The writing device is integrated in this device, so as to provide an orderly and civilized way for people entering and exiting, and to prevent illegal people from entering and exiting. At the same time, in order to meet the requirements of fire escapes, in case of emergency or power failure, it can be set to fail-safe mode. That is the shaft rotates freely and switches to the free two-way mode.
Full height turnstile series are fully applicable to places with a large flow of people and high security requirementsplaces, such as school, hospital, factory, construction site, park, prison, and other places.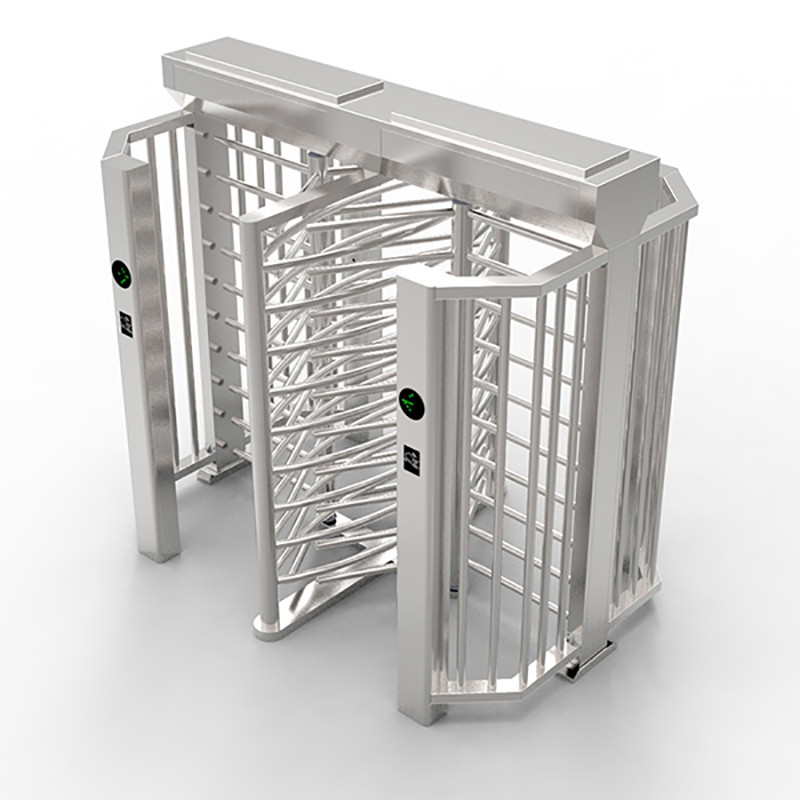 Function Features
1. It has a stable and reliable mechanical locking device, a precise movement and a combined structure of the turntable with a special process.
2. It has two-way traffic function, and the steering of the brake lever is divided into two-way and one-way.
3. It has the function of power-off and gate opening. In an emergency, the cross door shaft is switched from locked to free passage mode, and pedestrians can pass quickly to meet the requirements of fire escapes.
4. After the pedestrian reads the valid card, if the pedestrian does not pass within the time specified by the system, the system will automatically cancel the pedestrian's permission to pass this time.
5. Install a two-way arrow indicator to indicate the state of passage, which can be passed or prohibited.
6. There is a dial switch on the control board, which can adjust the pass delay time through the algorithm, and can also be adjusted to a memory mode, for example: swipe the valid card five times, and pass five people.
7. The unified standard external electrical interface can be connected to a variety of card readers, and remote control and management can be realized through the management computer.
8. The whole system runs smoothly and has low noise.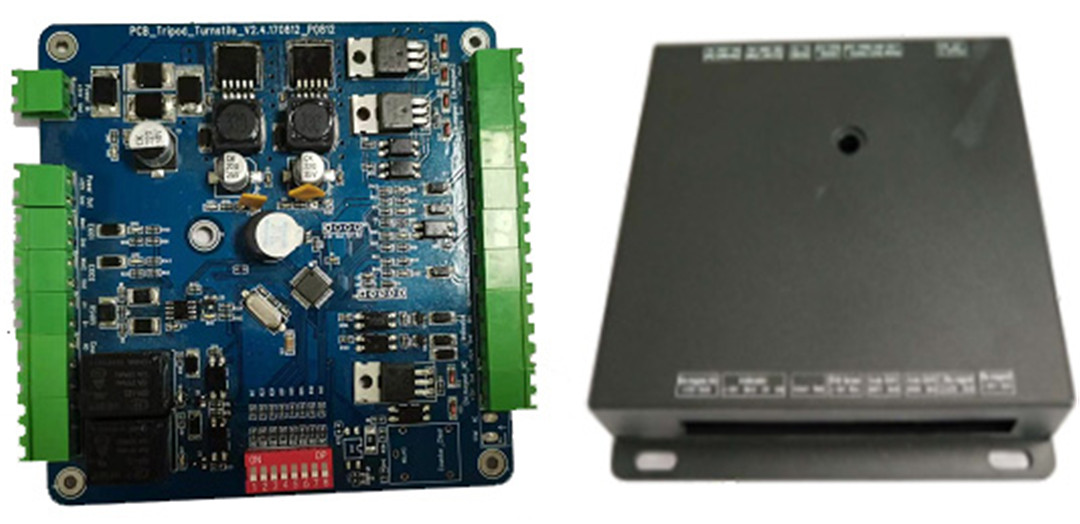 Simple Full height turnstile drive board
1. Arrow + three-color light interface
2. Memory mode
3. Multiple traffic modes
4. Dry contact / RS485 opening
5. Support fire signal access
6. Support secondary development
·Molding: Die-cast aluminum, special spraying treatment
·Anti-submarine return: 6pcs gears design, unable to return after 60°rotation
·Long life time: Measured 10 million times
·Disadvantages: The pass width is 550mm only, can't be customized. It's not easy for pedestrians with large luggage or trolleys to pass.
·Applications: Stadium, Prison, Factory, Construction Site, Community, School, Hospital, Park, etc
---
---
Write your message here and send it to us