Servo Brushless Direct Drive Automated Boarding Gates Integrated with Airport Access Control Systems
Product Detail
Product Tags
| | |
| --- | --- |
| Model NO. | M3686 |
| Size | 2700x200x1300mm |
| Main Material | 2.0mm cold roller steel with US powder coating + 10mm transparent acrylic |
| Pass Width | 600mm |
| Pass Rate | 35-50 person/min |
| Working Voltage | DC 24V |
| Power | AC100V~240V |
| Communication Interface | RS485, Dry contact |
| Turnstile Drive Board | Servo Brushless Direct Drive Swing Gate PCB board |
| Motor | 100W Servo Brushless motor |
| Infrared Sensor | 17 pairs |
| Equipment Power | 90W |
| Response Time | 0.2S |
| Environment Temperature | -25℃~70℃ |
| Applications | Airport, Customs, Border inspection channel, High-end community and etc |
| Package Details | Packed into wooden cases, 2810x310x1500mm, 220kg |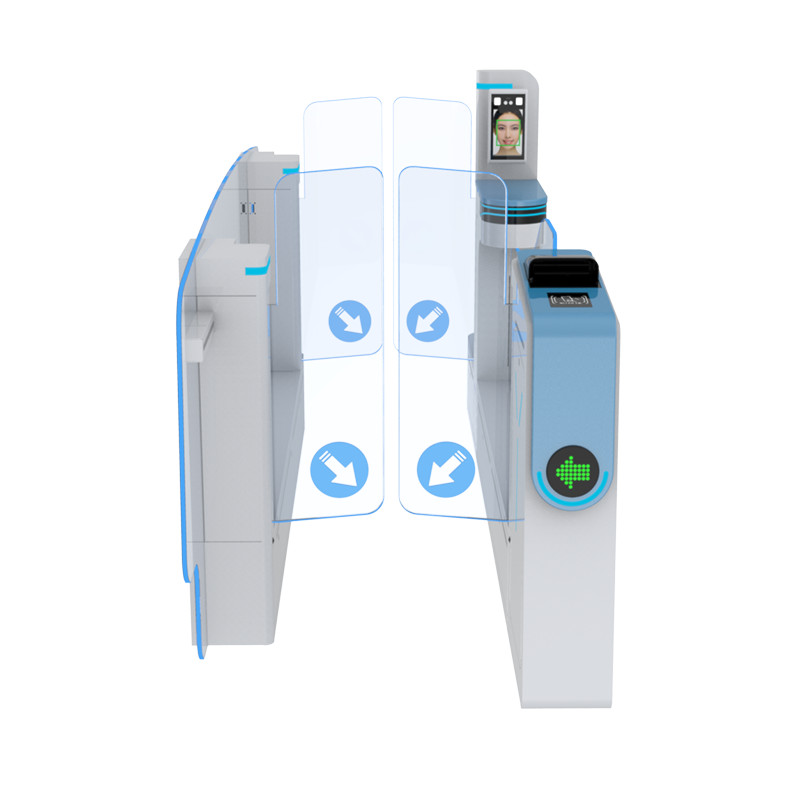 Brief introduction
This boading gate is an intelligent channel management equipment developed, researched and produced by our company. Convenient and suitable for border inspection, the electric swing door is fast, stable and noise-free, and effectively realizes entrance and exit safety control. The device effectively combines sophisticated mechanical transmission, precise servo motor control, infrared detection, LCD 7-inch display screen and face recognition device, fast and accurate QR code scanner and other reading and writing technologies into one, and configures different reading and writing technologies. The equipment can complete the intelligent control and management of the passage.
The appearance of the whole product adopts cold plate baking varnish process, CNC bending molding, beautiful appearance, rust-proof and durable, and the system adopts standard quick-plug electronic interface, which can easily integrate various QR codes, barcode cards, and ID cards. Reading and writing equipment is integrated in this equipment, so as to provide an orderly and civilized way for entering and exiting personnel, and to prevent illegal personnel from entering and leaving. In an emergency, the gate opens automatically to organize the evacuation of personnel. In addition, the equipment is equipped with an emergency stop switch, which can quickly cut off the main power supply of the gate in an emergency to ensure personal safety.
Main Features
·Durability: Cold plate + 304# stainless steel, anti-rust, high temperature resistance, bright color
·Appearance: Adopt concise, futuristic technology design
·Stability: Driven by servo direct drive motor, fast, stable and accurate
·Linkage: Multiple verification + AB door linkage
·High safety: 17 pairs of safety detection devices, equidistant and reasonable layout
·High security: Trailing distance ≤100mm
·Scalable: Support RS485 communication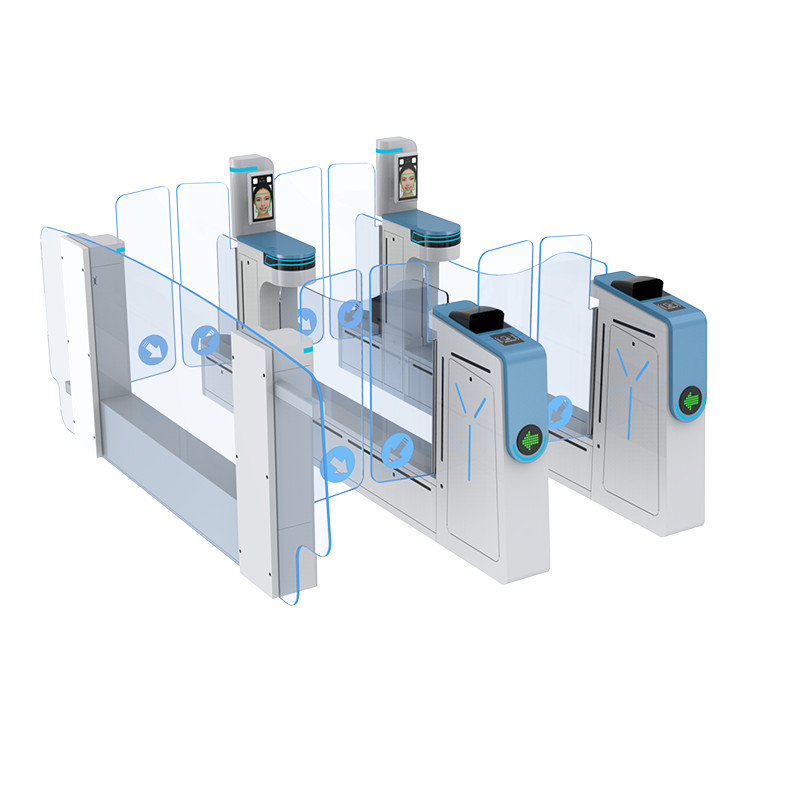 Servo Brushless Direct Drive Automated Boarding Gates with Multiple verification + AB door linkage Control System
Servo Brushless Direct Drive Speed Gate Machine Core / Servo Brushless Main Board

Fully closed loop algorithm/precise control/stop, start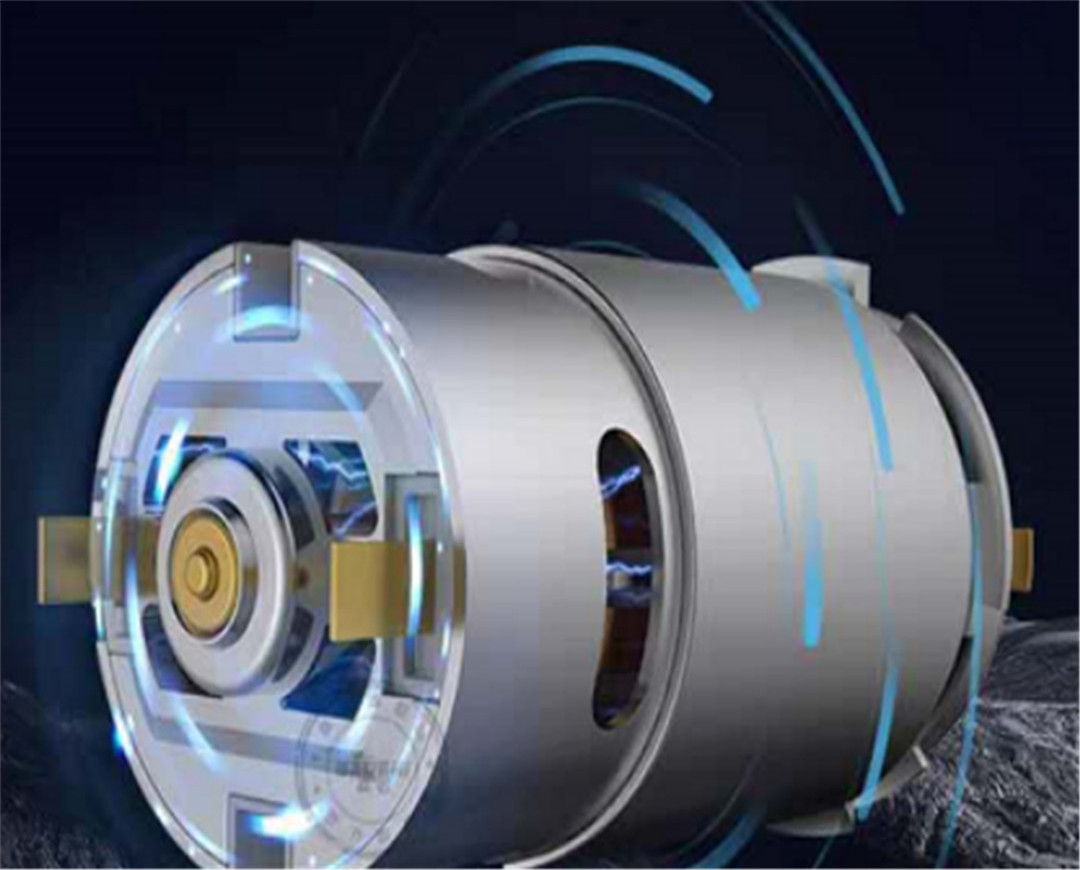 Brushless Motor: 
High efficiency, the motor itself has no excitation loss and carbon brush loss
Electrical energy into mechanical energy
More than 96%, running sound is about 50db, comprehensive life
Life is more than twice brushed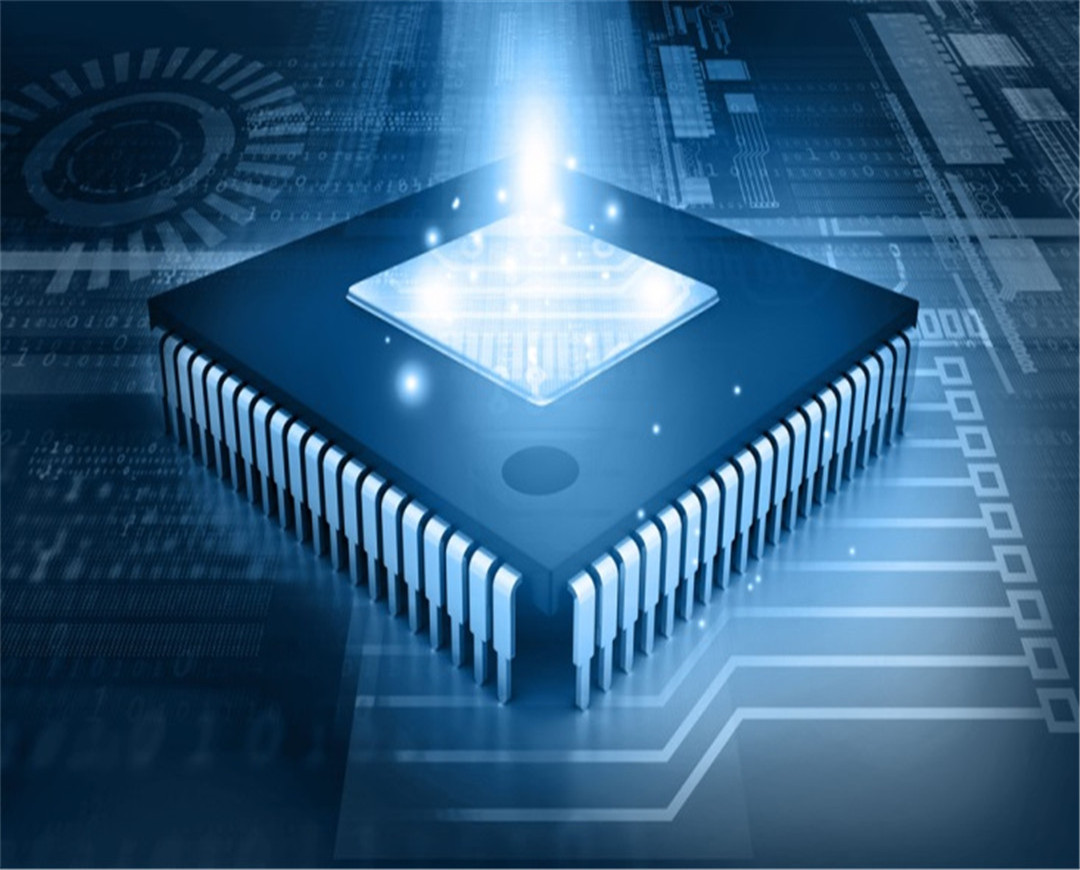 RGB color-changing light guides the passage, Infrared anti-pinch/current anti-pinch, Anti-shock function, Automatic reset, Memory mode, 13 traffic modes, Audible alarm, Dry contact opening/RS485, Support fire signal access, Secondary development, Chinese and English display / more than 80 subdivision menus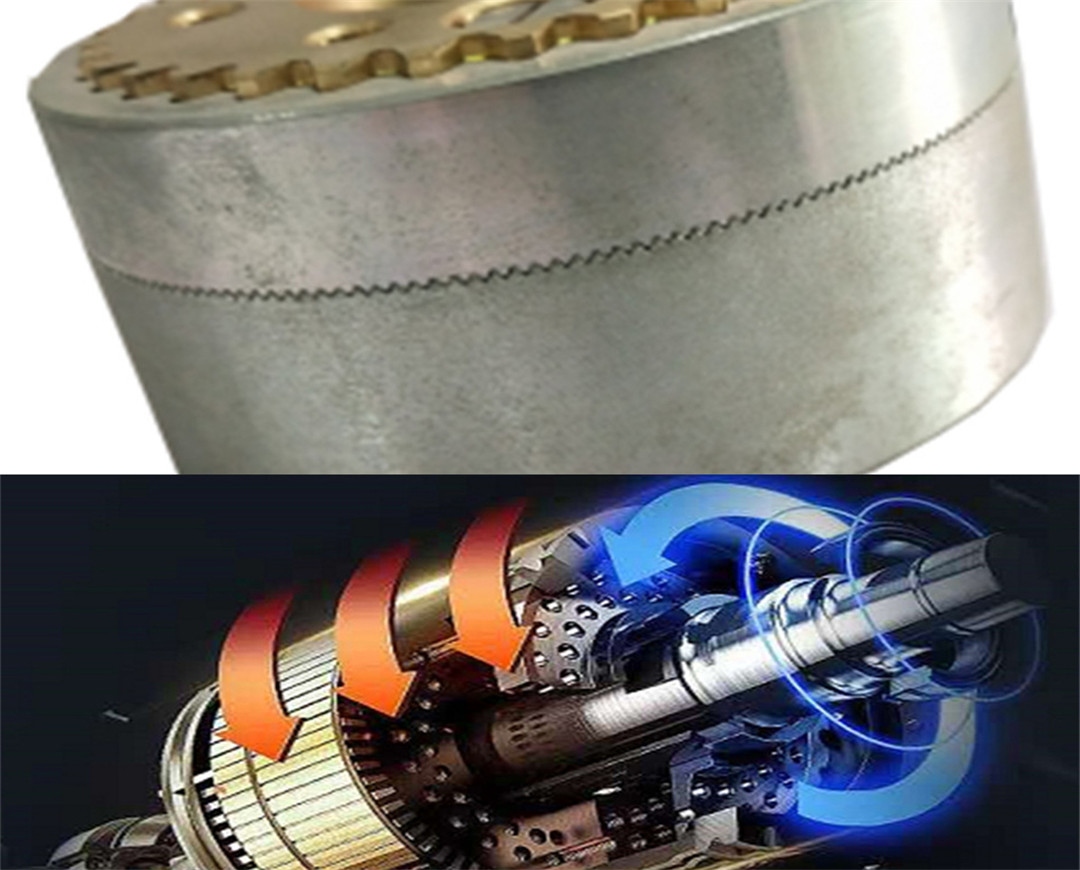 Anti-shock function:
PID position + speed loop + current control closed-loop collision system-when illegal intrusion, the motor realizes the reverse force Clutch lock control to prevent pedestrians from illegally breaking the brakes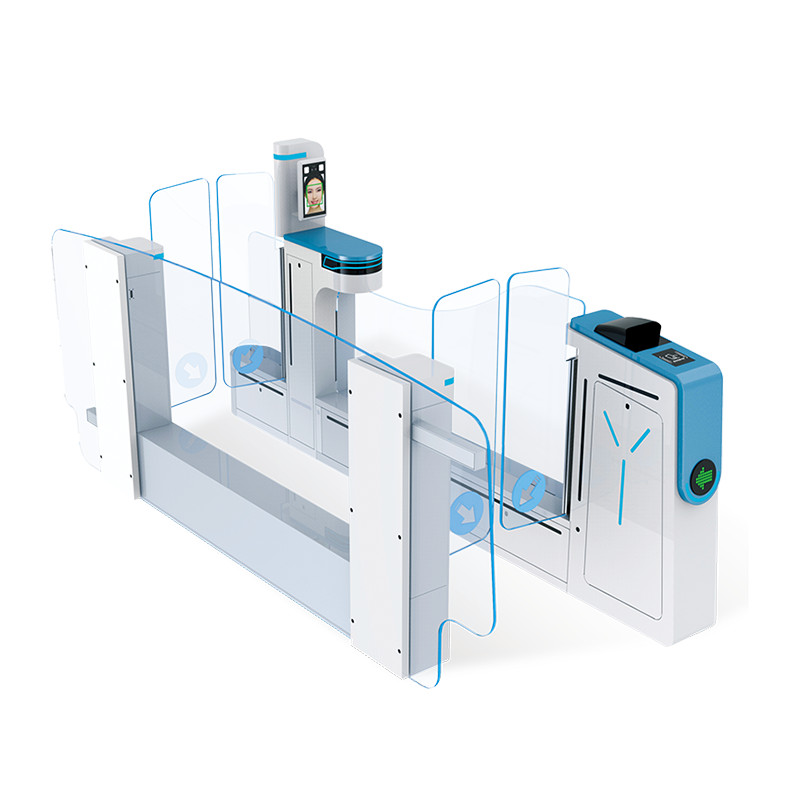 One chip for two usages
Brand-new control logic, realize AB door linkage
AB gate infrared logic algorithm
17 pairs of photoelectric detection devices, equidistant and reasonable layout
Safe to carry luggage/case
Detection trailing distance ≤100mm
Support RS485 data reporting
1. Arrow + three-color light interface
2. Double anti-pinch function
3. Memory mode
4. Multiple traffic modes
5. Sound and light alarm
6. Dry contact / RS485 opening
7. Support fire signal access
8. LCD display
9. Support secondary development
10. More than 80 subdivision menus on the control board, more intimate and more user-friendly to meet your requirements
Function Features
①With fault self-checking and alarm prompt function, it is convenient for users to maintain and use.
②Various pass modes such as card swiping and door opening can be set.
③Anti-collision function, the gate will be locked automatically when the gate opening signal is not received.
④Illegal break-in and tailgating, it will alarm with sound and light.
⑤Infrared anti-pinch function, physical anti-pinch function (when the door is closed, it will rebound and open);
⑥It has the function of overtime automatic reset. After opening the gate, if it does not pass within the specified time,the swing gate is automatically closed, and the passing time is adjustable (the default time is 5S).
⑦Uniform standard external port, which can be connected with a variety of access control equipment, and can realize remote control and management through the management computer.
⑧When the power is off, it will automatically unlock, the gate will automatically open.When the power is turned on again, the gate will automatically reset and close.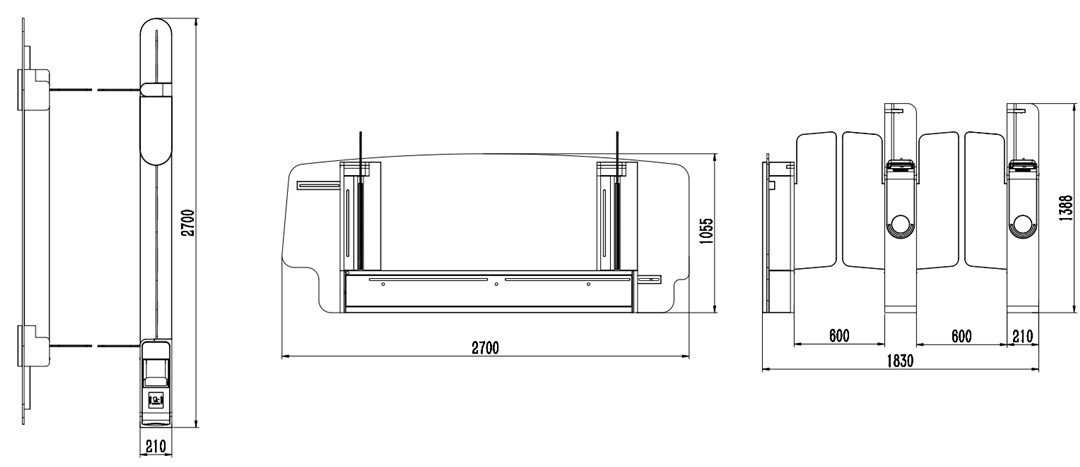 ---
Previous:
Black Grey Color Economic Self Service Boarding Gate AB Door with Independent Control System
---
Write your message here and send it to us